Back to news
Catalyst takes handover of first apartments at landmark Newman Place development, Oxford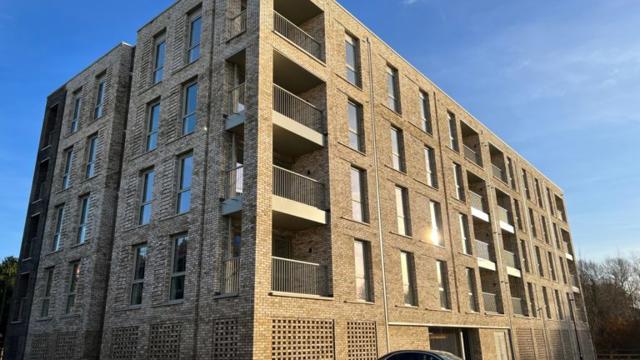 Housing association Catalyst has taken handover of the first apartment building of 32 affordable homes at Newman Place, Littlemore, Oxford.
Published: 17/01/2022
---
Newman Place is a 100 per cent affordable development that will bring 270 new homes with 108 for social rent and 162 for shared ownership, with priority purchase options given to NHS key workers.
The homes help meet the general and specific need for affordable and adapted homes for local people, including family-sized homes and 14 wheelchair-accessible homes.
This first handover of new homes is a collection of 32 high-quality one- and two-bedroom homes for shared ownership in an apartment building that has been named Wilson House. The apartment buildings on the development have been named to reflect notable people connected to Littlemore, including Atwater House, Underwood House and Allin House.
Catalyst is delivering the development in partnership with Oxford City Council (OCC) and Hill Partnerships Ltd. The new homes are being built over four phases, with the development due to be completed in summer 2023, with the next apartment building scheduled to be handed over later this month (January).
Located on Armstrong Road, the development has been named Newman Place, after Saint John Henry Newman. The new community is sustainable and biodiverse in design, respecting the heritage as the former site of Littlemore Park hospital with public art commissioned to recognise this, and with a campus-style layout reflecting Oxford's university status.
New footpaths and cycleways will connect Newman Place with the adjoining Oxford Science Park and provide local residents with access to a restored copse area, seating alongside Littlemore Brook, a play area made from natural materials and community allotments and habitats for local wildlife.
Joe Marshall, Managing Director, New Homes (Counties) at Catalyst, said:
'This handover of 32 new homes at Newman Place is a proud moment for Catalyst and our partners as it marks the first of a significant number of new high-quality, affordable homes we're building here just a few miles south of Oxford City Centre.
'Newman Place is an excellent example of how Catalyst is committed to working with local partners to build the right mix of homes in the right places across the Oxford/Milton Keynes /Cambridge growth area and creating sustainable and attractive communities that meet the needs of local people.
'Last year, and through Oxford City Council, the development was awarded £4.34 million of grant funding by the Oxfordshire Housing and Growth Deal, providing a valuable contribution towards this significant number of new affordable homes we're building at Littlemore.'
Ryan Harris, Regional Director at Hill Group, said:
'We are delighted to be working with Catalyst to deliver this sustainable collection of affordable new homes for the community. We pride ourselves on creating places that bring greater social value, and this scheme is going to make a great difference to many who would normally really struggle to take their first step onto the property ladder.'
Councillor Alex Hollingsworth, cabinet member for planning and housing delivery at Oxford City Council, said:
'Shared ownership helps people onto the property ladder by buying a share in homes they couldn't afford to buy outright, and Catalyst's 32 new homes will help meet a vital need for low cost home ownership in Oxford. Priority for NHS key workers is particularly welcome given the difficulty that our hospitals face in recruiting and retaining staff due to the cost of housing in our city.'