Back to news
Greenfields opens its doors to new residents at community event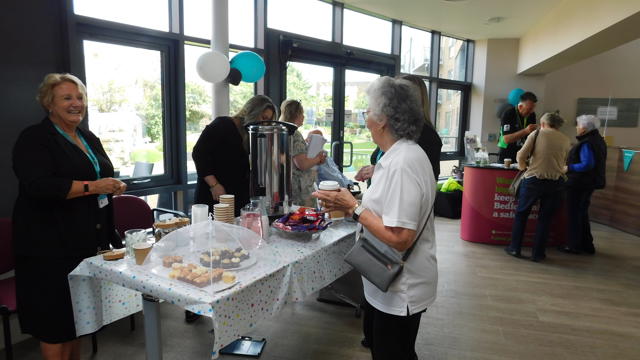 Housing association Peabody held an open day event at its independent living scheme Greenfields in Leighton Buzzard to give potential residents a flavour of its high-quality facilities.
Published: 01/06/2023
---
Together with residents and the local MP, Andrew Selous, the Greenfields team took visitors on a tour of the new facilities and talked them through the on-site support available, while encouraging people to apply for a home through the council - who manage applications for all extra care schemes.  
Peabody's partners, including the NHS, Age UK and the Central Bedfordshire Community Wellbeing Team, were also on hand to give information about their work in the community and ways in which they support residents. 
Greenfields is an extra-care scheme, owned and managed by Peabody. With a focus on maintaining a strong sense of community and being sociable, Greenfields provides 82 one- and two-bedroom apartments for people over the age of 55. This includes 50 affordable rent and 32 shared ownership homes - all are designed to the Lifetime Homes Standard.  
With leasehold homes available now, applicants can expect on-site facilities to support mixed needs. Greenfields residents can receive extra care and support when needed by a dedicated care team, such as Care is Central who have been rated 'Good' by the Care Quality Commission. The team offers in-person support at all hours of the day and night and a community alarm service.   
Peabody tailors its support to suit every individual's lifestyle and goals. This could include help with cooking, staying healthy and taking medication.  
Socialising, wellbeing and independence are at the heart of Greenfields. There are 8 communal rooms for people to use and share with one another where residents can enjoy a raft of activities every day, from petting Crumble the therapy dog, to bingo and a crafts club. They can also be pampered at the onsite hair and beauty salons, before relaxing in the spa room, Fish and Chip restaurant, or library.  
With a large communal garden, residents can take up a spot of gardening, planting vegetables and flowers in a tranquil environment surrounded by trees and plants.  
Greenfields residents are able retain their independence with the offer of support as and when needed and get from A to B easily and without fuss. A new local bus route, which stops right outside Greenfields' doors, launched earlier this month, makes it easier than ever for residents to access Leighton Buzzard. 
Bob was one of the first people to move into Greenfields six years ago. He commented: 
"It's amazing. My apartment is very modern and spacious - there are so many different rooms and open spaces here. When my friends come here, they just say 'wow, can I move in?'.  
"You've also got a really good community here. And it's great to be able to get extra care when you need it. At the moment I need to use four different kinds of eyedrops every day. But rather than having to get stressed and find out who can help me do this, I can just ask the care team here for support. It's such a wonderful integrated service." 
If you or someone you know is over 55 and looking for a new home that supports changing needs, you can apply for a Greenfields home by visiting the Central Bedfordshire Council website.  
Alternatively, you can contact Peabody via their website to ask any questions or arrange a date to visit the team at Greenfields.  
Iain Shaw, Director of Care and Support Specialist Housing at Peabody, said: "Greenfields is a fantastic scheme with so many amenities, and we are pleased to be able to welcome new residents to the community. With support from a dedicated team around the clock, residents can expect safety, support and reassurance while living independently in a tranquil setting. There is so much to do at Greenfields, and we look forward to meeting new applicants to show them all we have to offer." 
James Parker, Head of Independent Living Services at Care is Central, said: "Greenfields is a wonderful and vibrant community whereby people can live independently or with bespoke care and support to maintain their independence should they need it.  
"The independent living model provides peace of mind for all tenants in the scheme, as our staff are on site 24 hours a day and available to respond to a wide range of emergencies and unforeseen situations, giving reassurance to tenants and loved ones.  
"We are really pleased with how our services are positively impacting our clients at the scheme and are thrilled with our recent CQC 'Good' rating."