Back to news
Megan wins Community Champion at Young Ealing Foundation Awards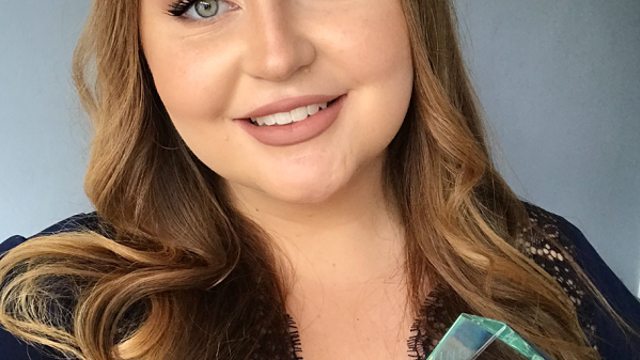 Catalyst Communities Assistant Megan Fahy has won 'Community Champion' at this year's Young Ealing Foundation Awards.
Published: 04/08/2022
---
The Young Ealing Foundation Awards recognise young people aged 11-25 who live, work or study in Ealing, and organisations, projects and individuals who support the borough's children and young people, whether in the voluntary or statutory sector.
Megan joined housing association Catalyst, a subsidiary of the Peabody Group, in September 2021 as a Community Connector. Catalyst created the new Community Connector roles as a community-focused innovative approach to the government's Kickstart Scheme. The scheme provided funding for employers to create high-quality 6-month work placements for young people as the country looked to focus on its recovery from the coronavirus outbreak.
The Community Connectors worked as an integral part of Catalyst's Communities team across London and the South East, using their knowledge their neighbourhoods to map local community services, get to know residents, stay in touch with socially isolated people and work with their communities to organise local projects to boost community spirit and wellbeing.
During her placement, Megan worked with residents and successfully developed and secured funding for a range of community projects at Westcott Park and Friary Park in Ealing, where she lives, that have all had a significant and positive impact for residents post-lockdown.
The projects include creating a small community library for adults and children through book donations and repurposing office furniture, a Caribbean community lunch and Djembe drumming, 'Growing, Gardening & Games' in the community garden and a wellbeing day where residents could learn meditation and how to make their own natural skincare products.
Following her placement, Megan was offered a permanent full-time role with Catalyst and now works as a Communities Assistant in the Advice and Wellbeing team and continues to build on the amazing projects she established during her placement.
Megan told us:
'I couldn't believe it when I heard my name read out and I won the award! There were so many fantastic entries and people who'd done some amazing things in their communities. The award recognises the work of the whole team and everybody who works to support residents and their communities. I love working with such genuine, compassionate and inspiring colleagues who are all motivated by helping others and making a positive difference.'
'Becoming a Community Connector provided me with paid work experience, which has given me a deeper understanding of the role housing associations play in supporting individuals and building communities. It also provided me with the opportunity to apply for and gain a permanent position as a Communities Assistant within the Communities team.
'Thank you to everyone who helped make the programme happen and supported us all through the process. It's really helped provide me and other young people with a fantastic opportunity to learn new skills and develop personally and professionally.'
Sahil Khan, Director of Community Strategy, Partnerships and Funding at Peabody said:
'We're absolutely thrilled that Megan has been recognised by The Young Ealing Foundation Award for her community work and achievements. We're especially proud that her time with us in the Community Connector placement role has led to her continuing her career with us and joining the team in a permanent full-time role as a Communities Assistant.
'Megan's had such a positive impact on her local community and the people she works with – her strong work ethic, approachable nature and sense of humour have shone through. Many congratulations on your award Megan – very well deserved!
'The creation of the Community Connector roles was inspired by the groundswell of community action we saw in our communities across London and the South East during the pandemic, and we wanted to not only help young people get work experience, gain transferrable skills and build a local network, but also to empower local people to create positive community-led projects in their neighbourhoods with help from the Community Connectors.
'As a result of the initiative, we're delighted to report that of the seven Community Connectors we welcomed on placement, two are now working full-time with us, two have secured permanent roles with other organisations and three have gone onto further their studies.'
Also at the awards, local community champion Sulaiman Iqbal was shortlisted for the Young Leader Award for the community group Team UPside that he founded. Read more on Sulaiman's community work and recent recognition through The Diana Award.