2023 has been a challenging year but our increased investment and renewed local focus are starting to make a difference.
We remain focused on getting closer to our residents and communities. Our regional teams are working with residents to make sure we provide the support and services that people really need.
Find out more in our first annual report since we completed the final step of our merger with Catalyst in April 2023.
The year at a glance
During the year we invested extensively in our existing homes, carrying out routine and cyclical maintenance alongside improvements to make them safer and more energy efficient. We also continued to proactively address potential damp, mould and condensation in people's homes. 
The safety of our buildings is our top priority and we're doing everything we can to make sure our homes are places that people can live happily and safely. We know our resident satisfaction levels are below where we'd like them to be and that our repairs are taking longer to complete than they should. So we're working hard to make things better. 
We're focused on getting the basics right and making it easier for our residents to interact with us through My Peabody, our new online customer portal. We've also introduced a new approach to social value. All organisations that work with us on large contracts have to guarantee that 20 percent of the contract's value will be spent helping to improve local communities or the lives of those that live in them.
During the year we delivered the highest number of social homes - more than any other social landlord - even in the difficult financial environment.
"We remain focused on getting the basics right and continuing to improve homes and services for residents. Our new regional structure is bedding in well, with more colleagues supporting residents in person. We've prioritised investment in our existing homes, ensuring they're high quality, safe and fit for the future."

Ian McDermott, Peabody Chief Executive.
Financial highlights 
Despite financial pressures, we performed strongly with turnover of £1.1bn - £300m related to sales. We invested £179m improving our homes, including £66m on building safety. And we spent a further £177m on routine and cyclical maintenance, bringing the combined spend to £356m.
During the year, we spent £567m on much-needed new homes, making a positive difference to thousands of lives. Of these, 78 percent were affordable tenancies or social ownership properties. And at an average of £127 per week, our rents remained substantially lower than market levels – representing an annual subsidy of £621m.
The numbers
investment in new homes (78% affordable rent and shared ownership)
Community highlights
Our communities are an essential part of our organisation. Last year we invested £10m in community activities, including giving £1.1m directly to community members to start their own local initiatives. 
We worked with households to boost their income and supported 443 people into jobs and apprenticeships. We also helped 3,526 people with advice and support to improve their skills and 689 people to achieve qualifications. Our annual jobs fair connected more than 1,600 people with 60 employers and a wide range of services and support. 
Our care and support services play a central role in providing attentive and tailored care to those who need it most. During the year we worked with over 40 local authorities and NHS Trusts, supporting 17,438 people in London and the Home Counties.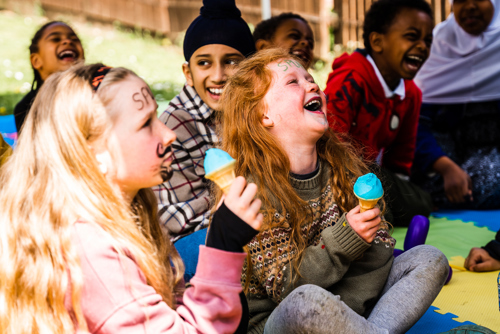 The numbers
invested in community activities
awarded in grants to grassroots community organisations
people supported into jobs and apprenticeships
businesses helped to access enterprise support and resources
community members and colleagues signed up as volunteers
people in London and the Home Counties helped by our care and support services
Sustainability highlights
Sustainability is not just about climate change. It's about making sure our whole organisation is fit for the future. That's why creating a sustainable Peabody is one of our key priorities. But to meet our goal of being net zero in our day-to-day operations by 2030 and in our whole business by 2050, we need the support of everyone - colleagues, residents, partners and suppliers. 
So we're changing the way our organisation operates to make it more energy efficient. We've fitted solar panels on some of our homes so our residents can generate their own electricity. And we're improving insulation and ventilation in many of our existing homes to reduce our carbon footprint and save our residents money. We're also supporting our residents to save money on their bills with our Energy Advice and Pocket Power services.  
This year we were awarded the Certified Sustainable Housing Label for a second time by RITTERWALD, reiterating our commitment to sustainability. 
Find out more in our latest Environmental Sustainability Strategy Read now
The numbers
of our homes are rated EPC C or above
grant funding secured to improve existing homes
spent making 6,500 homes more energy efficient
Looking ahead
We'll build on the progress we made this year using past experiences backed up by data to direct our focus. And we'll aim to improve our overall resident satisfaction score from 58 percent to 64 percent in 2024. As most of the issues relate to repairs and how easy it is for customers to contact us, we'll continue to improve our repair service and encourage residents to use My Peabody to report issues. We're already starting to see improvements in our complaints handling process and will continue to make this a priority.
We'll continue to improve the energy efficiency of our homes, working towards our goal of all of our homes having an average EPC B rating (SAP 81) by 2050. Currently the average SAP rating across our stock is 73.39 which exceeds our in-year target of 73. We'll also focus on developing local plans with our partners to make sure we best serve the needs of our communities and those who call them home.