Blocks A to G at the Bethnal Green estate were built by William Cubitt & Co to the designs of W E Wallis, using similar layouts to blocks on 19th century Peabody estates. Opened in 1910, they contained 167 flats with shared toilets on the landings and a communal laundry room on the top floor of each block.
Six years later, Block H was added to the estate. Its architect was Victor Wilkins who brought fresh ideas to the design and layout of the accommodation. Unlike the earlier blocks, each flat had its own toilet, although there was still a shared laundry in the basement and a number of bathrooms on the ground floor. As the laundry rooms in the first seven blocks were no longer required, they were converted into residential accommodation.
Between the 1950s and the 1970s, Blocks A to G were modernised by removing the shared facilities and amalgamating smaller flats to create larger homes with kitchens and bathrooms. A further modernisation scheme in the 1990s provided every block with a lift and also improved the internal layouts of the flats. The communal laundry in the basement of Block H has been closed and the rooms are now used by caretaking staff. There's a landscaping scheme in the courtyard, which has seating, a garden area and play equipment for residents.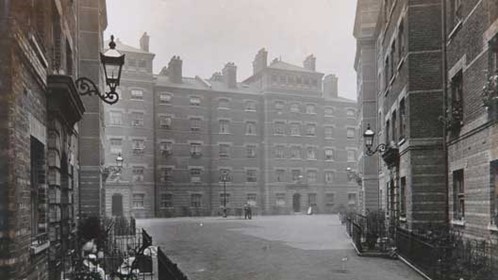 Got a question about our archive – or have a story to tell?
Please email: history@peabody.org.uk
Please include a postal address or telephone number so that we can reply to you.