The design for Camberwell Green won an architectural competition arranged by the Governors of Peabody in 1909. The successful architect was Victor Wilkins, who went on to work for Peabody for almost 40 years.
The original nine-block estate cost £30,000 to build and was opened in 1911. It boasted a warm red-brick exterior and was Peabody's first set of homes to have entirely self-contained plumbing, meaning no shared sinks and toilets.
In 1920, we added a further six blocks where only two flats opened onto each staircase, instead of four as previously. The living rooms in these flats had glazed doors leading to small balconies. However, the estate suffered severely during the Second World War, with the top flats of blocks D and E being entirely gutted by firebombs.
In 2007, the estate hosted celebrations for European Neighbours Day. This event was marked on the same day in 22 countries throughout Europe. Together with Stamford Street, the residents of Camberwell Green enjoyed food stalls, a bouncy castle and face-painting.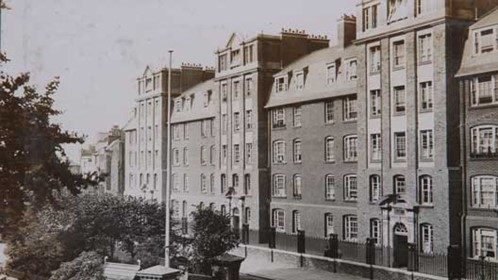 Got a question about our archive – or have a story to tell?
Please email: history@peabody.org.uk
Please include a postal address or telephone number so that we can reply to you.