When Chelsea Manor Street was built in 1931, it consisted of eight blocks containing 111 flats designed by Victor Wilkins.
By this time, most flats were self-contained with a toilet and scullery (similar to a kitchen). However, due to the economic struggles of the time, savings had to be made on building costs. So rather than a bathroom, the flats were built with a bath in the scullery that could be covered with a working surface when not in use. When the estate opened, weekly rents ranged from 5 shillings for a one-room flat to 13 shillings and 6 pence for a four-room flat.
The Second World War had a significant impact on the lives of the residents of Chelsea Manor Street. A bomb hit the estate in September 1940 killing a woman and wounding several other residents.
When the war ended in 1945, there was a party at the estate. The residents also threw large parties to celebrate the Silver Jubilee of King George V in 1935, the Coronation of King George VI in 1937 and the Coronation of Queen Elizabeth II in 1953.
The flats were modernised in the 1970s to  include bathrooms. There are now 103 flats on the estate.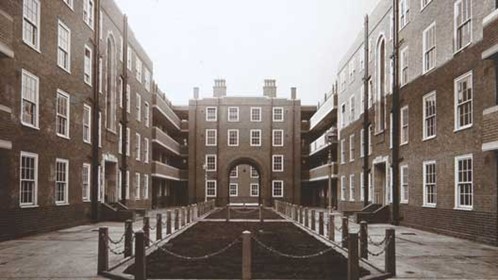 Got a question about our archive – or have a story to tell?
Please email: history@peabody.org.uk
Please include a postal address or telephone number so that we can reply to you.