Built in the 19th century, the original Stamford Street estate was densely populated and provided 352 homes. As the foundations were being dug, a 30ft long barge and several smaller boats were found, suggesting that the site had once been a riverbed. Four more blocks were added in the 1890s.
Notable residents in the early years of the estate included Mary Ann Nichols, the first murder victim of Jack the Ripper. Mary lived in Block D of Stamford Street with her husband William Nichols and their children. Following the couple's separation, Mary moved to the Whitechapel area where she is believed to have struggled financially before being murdered in 1888.
At around this time, George Brown was born in Block I, and at the age of six months he moved with his family to the Blackfriars estate. George went on to become deputy leader of the Labour Party and eventually received a peerage. He recalls his early years as a Peabody resident in his autobiography 'In My Way'.
The flats were modernised in the 1970s when we demolished four blocks to reduce the density of the homes. We also carried out an extensive environmental programme in the late 1990s. Works included the cleaning the brickwork, installing entry-phone systems, landscaping the grounds, planting garden areas and providing a children's play area. The estate now has space for residents to enjoy community events.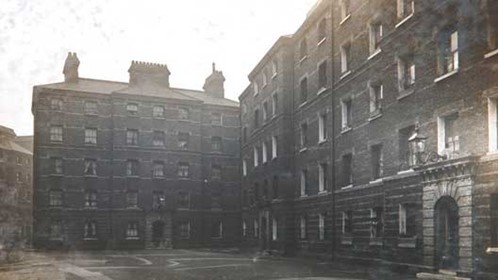 Got a question about our archive – or have a story to tell?
Please email: history@peabody.org.uk
Please include a postal address or telephone number so that we can reply to you.