Built in 1912, Vauxhall Bridge Road estate is situated near Victoria Station. The land was previously occupied by terraced houses dating from the 1840s.
When the estate opened the demand for accommodation was over three times the number of available homes. There were originally 11 blocks containing 202 homes, but the demolition of Block E and the amalgamation of smaller flats have since reduced the number to 132.
In 1913, Peabody's Governors visited the estate. An information brochure was prepared for their benefit and included a drawing of the estate that had been shown at the previous year's Royal Academy Exhibition. A description of the homes stated that every flat was self-contained with its own toilet and scullery (similar to a kitchen). Each living room had a dresser, a ventilated meat-larder and a self-filling boiler. A sink, draining board, coal bunker, washing copper and gas stove were provided in every scullery.
A communal bathhouse and a steam-heated laundry were both available to the tenants free of charge, and there was a constant supply of hot water from a tap in the courtyard. A charge of a penny a week was made for the use of pram sheds and bicycle sheds. Gas was used for lighting the courtyard and the flats, while the laundry and baths were lit by electricity controlled by the Superintendent.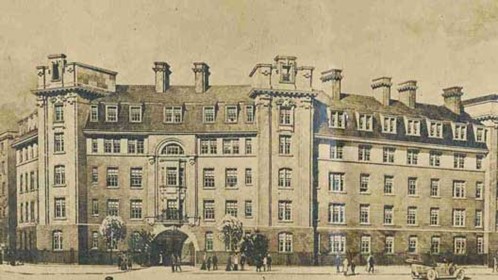 Got a question about our archive – or have a story to tell?
Please email: history@peabody.org.uk
Please include a postal address or telephone number so that we can reply to you.