Back to news
Celebrating the first anniversary of the Elizabeth Line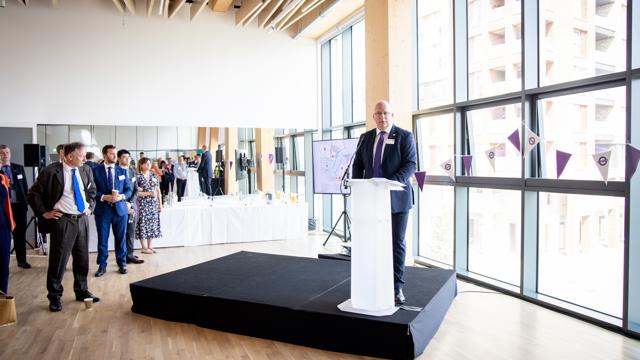 The regeneration of Thamesmead is all about improving, growing and looking after the town for the long term. Ensuring there are great transport links is a critical part of this. John Lewis, Executive Director for Thamesmead and Group Lead for Placemaking, explains:
Published: 19/06/2023
---
This week we had the pleasure of welcoming more than 100 guests, including businesses, politicians and key decision-makers to Thamesmead. They were here to celebrate the first anniversary of the Elizabeth Line – a much-needed and well-loved transport link for thousands of people across the capital.  
This rapid new route has been transformational for people in South Thamesmead, slashing their travel times – it's now just 11 mins to Canary Wharf, 25 mins to Tottenham Court Road and 29 mins to Paddington – and connecting them to places right across the capital, including Heathrow and Reading.  
Excellent transport is key to the success of our towns and cities, attracting new people, creating job opportunities, and unlocking the potential for organisations like ours to deliver much-needed affordable housing and the many other ingredients that create successful neighbourhoods. This is exactly what we're doing in the town. 
Since the opening of the Elizabeth Line there's been a surge of interest in people and businesses looking to make South Thamesmead their home. Its balance of city and countryside, strong sense of community, growing cultural scene, and (now) its proximity to the rest of London, are making this neighbourhood a great place to be.  
But South Thamesmead is just one part of a much bigger town. Thamesmead is in fact the same size as central London but home to just 47,000 people. As such, it offers one of the largest and most deliverable opportunities for housing growth in London.  
A couple of miles from Abbey Wood is the Thamesmead Waterfront – the largest and most significant development opportunity in the town, and an essential component in the long-term process of change in the area.  
In 2019 Peabody and Lendlease formed the Thamesmead Waterfront Joint Venture to masterplan this new neighbourhood for Thamesmead. Sitting on the southern bank of the River Thames, this development site spans 100 hectares, and gives us the potential to deliver up to 15,000 homes, thousands of jobs, a rejuvenated and expanded town centre, and a major park for London.  
As with South Thamesmead, excellent transport links in this part of Thamesmead are critical in enabling us to realise our vision. That's why we've been working with TfL, the Royal Borough of Greenwich, the London Borough of  Bexley and a host of other partners to take forward plans to bring the DLR to Thamesmead – to ensure connectivity and enable growth on a major scale.  
Good transport can be transformational. As we celebrate the Elizabeth Line, I'm hopeful about what we can achieve with better connections elsewhere in the town. With the right infrastructure in place, we can show that Thamesmead really is going places.