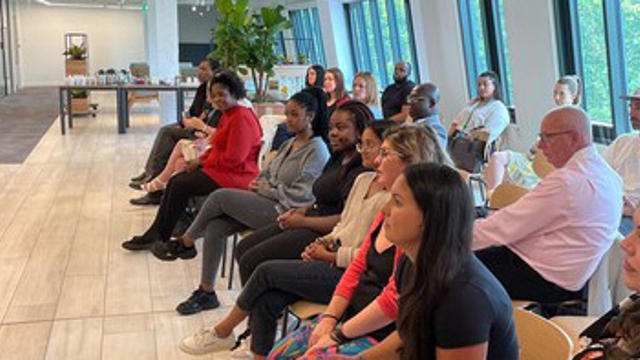 We launched our South London Business Forum at a special event at our head office.
Published: 20/06/2022
---
Over 30 businesses joined us to hear about opportunities to grow and scale and to network with like-minded entrepreneurs and business owners.
Dedicated to businesses in South London
The South London Business Forum builds on our success of working with and supporting local businesses in Thamesmead. Our new Business Forum has been designed to connect with the diversity of businesses across South London. We support local enterprises and entrepreneurs to either start or grow their businesses so that they have the best possible chance of success.
Our support for businesses and entrepreneurs includes:
access to professional training and specialist information and advice

monthly in-person and online meetings

access to Peabody or partner procurement opportunities

opportunity to take up commercial space as well as signposting to local events and opportunities to trade.
We also provide businesses access to enterprise grants to support their growth strategies and aspirations to scale.
Sharing expertise and networking
We were joined at our launch event by Hatch Enterprise, Unaji & Co (Young Entrepreneur Award winners at the 2021 Greenwich Business Awards) and our Economic Inclusion team to talk about opportunities for local businesses in South London and ways that they could grow their enterprise. Attendees also had the opportunity to network over drinks and food.
Olu Ososami, owner of Support Solutions Greenwich said: "It was such a pleasure to be invited to the launch event by Peabody. This was my first in-person event as a business owner and I really enjoyed networking with other business owners. The Peabody team provided a lot of useful information and I felt inspired by the presentation from Unaji & Co. Thanks so much for all that the Economic Inclusion team offers to business owners like me. It's exciting times ahead for my new homecare domiciliary business!"
Sahil Khan, Director of Community Strategy, Partnerships and Funding said: "It was fantastic to see so many local businesses from across South London join us at our launch event this week. We're really proud of the work we do to support local enterprises so that when starting or growing a business, they have the best possible chance of success. We've been working with businesses for many years in Thamesmead so our new Business Forum is actually just building on the expertise, networks and expert knowledge that we already have. I'm looking forward to seeing many more businesses getting involved and growing our network across South London."
Join us for our next meeting
Our next Business Forum meetings will be online on the following dates:
Monday, 8 August 2022 from 4-5pm

Monday, 12 September 2022 from 4-5pm