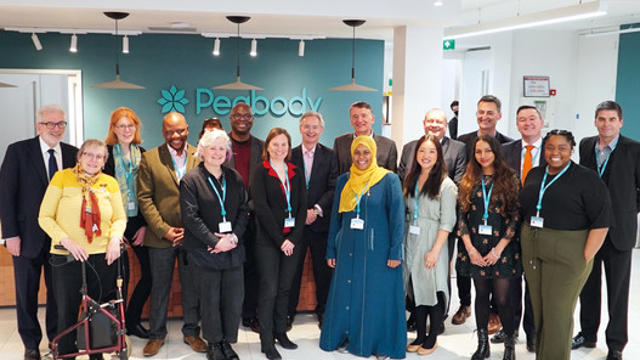 Our new head office at Westminster Bridge Road in Southwark has now reopened after an extensive renovation and modernisation project.
Published: 20/04/2022
---
Peabody Chair, Lord Kerslake joined colleagues from both Peabody and Catalyst's Equality, Diversity & Inclusion networks to open the building, and welcome colleagues to the new space.
After joining together with Catalyst Housing, our new organisation has around 4,000 colleagues, with 14 larger hubs across London and the home counties.
The refurbishment follows the closure of our Walworth Road and Tower Bridge offices to consolidate our central London workspaces and become more efficient. Our newly renovated office is an open, modern workplace designed to provide collaboration spaces with a mixture of touchdown spaces, pods, meeting rooms and laptop stations, providing flexible, collaborative and easily accessible workspace. It will set the blueprint for our wider offices to create collaborative and sustainable workplaces across the group.
We want to improve our buildings and our open spaces to be more sustainable and also support people to make greener choices. As part of this project, we installed solar panels on the roof which generate around 12,000 KWh of electricity and save 6,250 kg of CO2 a year. This is the equivalent of travelling 23,400 miles in a car.
We're also committed to buying products, materials and services that do not have a negative impact on the environment. All the suppliers involved in the office refurbishment project are based in the UK, and we used sustainable materials which can be easily recycled.Peabody Chief Executive Ian McDermott said: "We see the reopening of Westminster Bridge Road as a real opportunity to embed hybrid working for the long-term and to properly understand what is best for our teams and for our customers. We are pleased that our new offices will be highly sustainable, helping us move closer to our target to become more resource efficient, minimising our impact on the environment."Our new office will empower our colleagues to not be defined by where they work but by their roles and where they can work to best meet the needs of our customers. We hope our colleagues are excited to come back to work collaboratively in a hybrid space designed to be re-energising and encouraging colleagues to reconnect in person."
Office locations
Head Office: Westminster Bridge Road, 43 Westminster Bridge Road. London, SE1 7JB

Ealing Gateway - Catalyst Head Office: 26–30 Uxbridge Road London W5 2AU

Cambridge Office: 89 King Street, Cambridge CB1 1LD

Epsom Office - Rosebery Housing Head Office: Newplan House, 41 East Street, Epsom KT17 1BL

Houghton Hall: 6 Houghton Hall Business Park, Porz Avenue, Houghton Regis,  Bedfordshire LU5 5UZ

Hugh Cubitt Centre: 48 Collier Street, London N1 9QZ

Joyce Dawson Way: 15-19A Joyce Dawson Way, London SE28 8RA

Kensington Office: 336-342 Portobello Road, London W10 5RU

Kent Office - Town and Country Housing Head Office: Monson House, Monson Way, Tunbridge Wells, Kent TN1 1LQ

Oxford Office: The Farmhouse, Nightingale Avenue, Oxford OX4 7BU

Pembury Community Centre: Ground Floor Block A, Atkins Square, Dalston Lane, Hackney, London E8 1FA

Pembroke House: 11 Northlands Pavement, Pitsea, Essex SS13 3DU

Reading Office: Unit 2 Montague House, 12 Spey Road, Tilehurst, Reading RG30 4DG

Rowan House: 33 Sheepen Road, Colchester, Essex CO3 3WG

St George Mews: (3 & 4) 43 Westminster Bridge Road, London SE1 7JB