Back to news
Peabody and Battersea Power Station welcome BLINK Dance Theatre to creative hub in New Mansion Square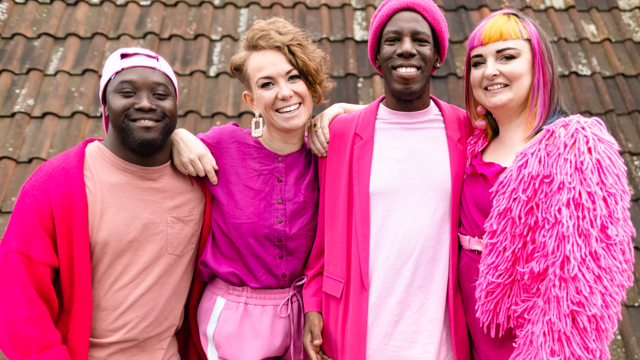 A grassroots, neurodiverse dance and theatre company has secured a long-term affordable home in New Mansion Square, a new housing scheme delivered in partnership with Peabody and Battersea Power Station.
Published: 10/08/2023
---
BLINK Dance Theatre successfully bid for 'Space 52' as part of an ongoing search for creative organisations to join the thriving new neighbourhood.
BLINK signed a peppercorn lease that is rent free for ten years and will move in later this year.  The organisation will receive a grant of £125,000 paid over five years and was also given business support funded by the Mayor's Space for Culture programme during the application process.
Founded in 2013, BLINK is a wildly creative and inclusive organisation with a goal of tackling ableism. BLINK combines humour with advocacy to reimagine a world without barriers. Its shows are adventurous and sensory-based immersive experiences.
BLINK strives to spread its knowledge, showcasing the benefits of working with a wide range of people with differing access needs, and celebrating their contributions.
Last year, BLINK was awarded National Portfolio Organisation status by Arts Council England for their high-quality, pioneering performances. It is also an associate artist of Battersea Arts Centre and the National Youth Theatre of Great Britain.
A permanent home gives BLINK a stable base to operate from and allows it to widen its outreach and engagement programmes. With its new home in Peabody and Battersea Power Station's 100 percent affordable housing scheme, BLINK will engage with residents and surrounding communities to offer performances for everyone to enjoy.
BLINK hopes to build long-term partnerships in the community. Battersea Power Station is a new town centre for Wandsworth that attracts tens of thousands of visitors every week. Being based in the area will be hugely important to BLINK's growth as it plants its roots and plans for the future.
Peabody, working with Battersea Power Station and Wandsworth Council, chose BLINK after a competitive application process that saw 37 applicants express an interest in occupying Space 52.
Three organisations were asked to submit full proposals, and the final decision was made with the help of Robin Klassnick, OBE, of Matt's Gallery, which recently relocated to the creative district of Nine Elms.   
One runner up is Apples and Snakes – England's leading poetry and spoken word trailblazers with artists at its heart. They prioritise working with artists and communities of African, Caribbean, and Asian heritage and excluded groups such as young people in care and refugees. 
The other runner up is Streetwise Opera – the award-winning company that enables people who have experienced homelessness to find inspiration and empowerment through opera while they rebuild their lives and identities.
Both organisations continue their searches for a permanent home.
Peabody and Battersea Power Station are now offering 12 more affordable workspaces to organisations with local connections, at half the usual market rent.
Each organisation will benefit from dedicated on-site business support and networking opportunities provided by Peabody.
With the smallest unit starting from just £774 per month, each space comes complete with a kitchen and street frontage that opens out onto a newly landscaped square.
New Mansion Square also offers a dedicated Enterprise and Tech Hub which includes a co-working space with desks, meeting rooms and a podcast studio. Organisations will pay just £27 per sq ft and £150 a month for a fixed desk, with the option of a monthly contract.
The spaces, due to open later this year, are located just a four-minute walk from the new Battersea Power Station Underground station and nine minutes from Battersea Park railway station.
Applicants will need to demonstrate a connection to Wandsworth and work in a creative industry, such as design, fashion, manufacturing, or technology.
To enquire about renting a workspace, or to find out more, please fill out this form by Friday 1 September or contact Peabody on Workspacebattersea@peabody.org.uk
Peabody is committed to celebrating and learning from the rich diversity in communities and encourages business owners and entrepreneurs from ethnic minority groups to apply.
Adriana Marques, Head of Cultural Strategy at Peabody, said: "Huge congratulations to BLINK who'll bring creativity and inspiration to this exciting new community.
"Our dedicated support, grant, and rent-free offer will give the team a permanent place to call home and the freedom to flourish in an environment of like-minded people.
"Successful and sustainable places need a variety of ingredients to make them work, including cultural and creative activities. BLINK's unique cultural offer, and their bold vision to create diverse and inclusive environments, aligns with Peabody's vision to create great places. We wish them well as they settle into their new home." 
Sarah Banham, Head of Community and Sustainability at Battersea Power Station Development Company, said: "We are delighted to welcome BLINK to New Mansion Square at Battersea Power Station, bringing an exciting and new creative organisation to our neighbourhood. Championing and encouraging art and culture is a crucial element in creating a vibrant town centre, and it is especially important at Battersea Power Station, which is a landmark that has inspired creatives for decades. We are proud to have worked with Peabody to deliver Space 52, alongside a number of other affordable workspaces at New Mansion Square."
Kemi Akinola, Wandsworth Council Deputy Leader, said: "We are pleased to announce that BLINK Dance Theatre are bringing their pioneering approach to Wandsworth and would like to welcome the theatre team to our borough. It was a privilege to be part of the panel making this decision as it signals real change towards a fairer and more inclusive local arts sector."
Justine Simons OBE, Deputy Mayor of Culture and the Creative Industries, said: "Culture is in our DNA. It brings communities together and it's vital that London's creative opportunities are open and accessible to all. BLINK does fantastic work offering innovative and accessible dance and theatre, and it is great news they now have a permanent new home at Battersea Power Station. This support will give local artists and performers the opportunity to thrive as we continue working towards a fairer and better London for everyone."