Back to news
Peabody and partners to harness thermal imaging tech to boost retrofit goals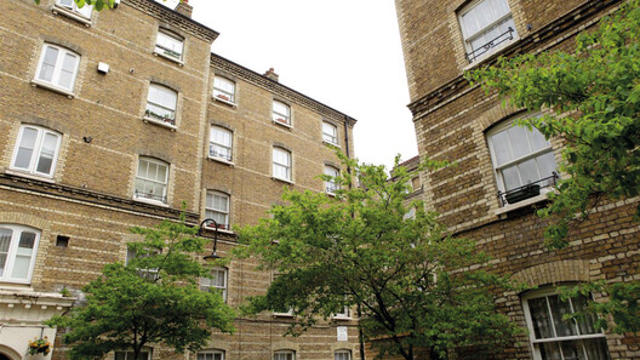 Peabody, Kestrix and United Living Property Services have been awarded £240,000 by Innovate UK, the UK's Innovation Agency, to develop 'game changing' technology that could transform the way the retrofit industry measures the energy efficiency of buildings.
Published: 04/10/2023
---
The funding - announced today (Wednesday 4 October) at UK construction week in Birmingham - is intended to address the urgent need for more scalable, accurate and cost-effective surveying and modelling techniques.  
The three organisations will work together on cutting-edge thermal imaging technology that could see heat loss surveys done remotely, using a combination of AI software and state-of-the-art cameras fitted to aerial drones.  
These advancements could pave the way for organisations such as Peabody, which has 107,000 homes across London and the Home Counties, to accurately measure the energy performance of thousands of homes in one go, bypassing the need to inspect them from the inside. This would vastly speed up the surveying process, while doing so at a fraction of the cost, and allow housing providers to better prioritise investment in existing homes. Ultimately, it would accelerate retrofit works - meaning reduced carbon emissions, more comfortable homes and lower fuel bills for residents more quickly. 
In 2019, 17 percent of heating emissions from buildings came from homes*, and according to recent reports, the UK must retrofit 1.5 homes every minute between now and 2050 to achieve its net zero targets*. However, current methods of measuring the energy efficiency of buildings are slow, manual and expensive – and modelling based only on existing Energy Performance Certificates, while valuable in the absence of other methods, can fail to paint the full picture of a home's energy performance.  
'Retrofitting' involves making changes to buildings to improve their energy performance – such as replacing windows, using better insulation and ensuring heating systems are efficient. It is often considered preferable to demolishing and replacing old buildings – due to the large amount of carbon emissions produced by cement and steel during construction. 
Earlier in the year, Peabody joined forces with the National Trust, Historic England, The Crown Estate and Grosvenor to highlight the need for a national strategy on retrofitting, particularly relating to historic buildings. 6.2 million UK homes - around one in five - and a third of all commercial buildings – around 600,000 in total - were built before 1919. 
A report by the organisations found that improving the energy efficiency of historic homes and commercial premises could reduce carbon emissions from the UK's buildings by an estimated five percent each year and generate £35 billion of output in the economy, while making homes warmer and cheaper to run. But the UK currently only has half the skilled workers it needs to do the job, prompting calls for the industry and the government to work together to build a workforce capable of meeting the nation's climate goals. 
Richard Ellis, Director of Sustainability for Peabody, said: "It's clear that improving the energy efficiency of homes is crucial to reducing carbon emissions and lowering costs for residents. We also know that warmer and more cost-efficient homes vastly improve residents' lives. But we don't yet have a quick, completely accurate and efficient way of planning and prioritising our retrofit works.  
"Our hope is that this project and others like it will unlock the untapped potential of advancing technology, ultimately helping us to retrofit homes faster and more effectively than ever before. It will allow us to look at energy use in real time, giving us better data and a more reliable way of prioritising the energy efficiency measures that will have the greatest impact on people's lives, while also helping us to achieve our carbon reduction goals. 
"If we don't harness these tools now, we risk falling short of our net zero ambitions and missing an important opportunity to improve people's lives." 
The technology will be tested on a sample of approximately 100 Peabody homes in the first instance. 
Lucy Lyons, CEO of climate tech SME Kestrix, said: "This project brings together the technical expertise of Kestrix, the extensive experience of Peabody as one of the UK's largest social housing providers, and the retrofit delivery leadership of United Living.  
"Together, we aim to demonstrate a game-changing technology that will transform the way the industry approaches retrofit - enabling smarter, smoother retrofit planning and ultimately the more efficient allocation of scarce retrofit resources." 
*Sources: 
House Of Commons 'Decarbonising Homes' report - 2021/22