Back to news
Plans submitted for up to 995 new homes in Haringey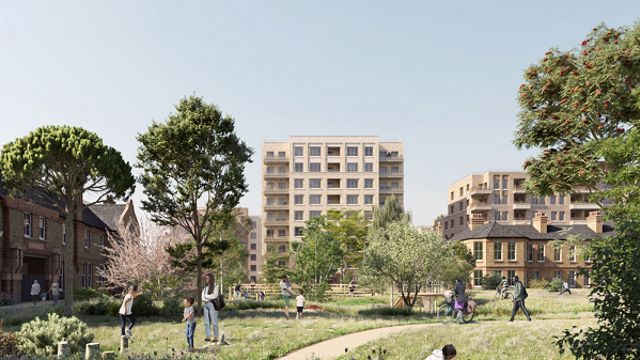 Catalyst and development partner The Hill Group have submitted a hybrid planning application to Haringey Council for a mixed-use development on a site adjacent to St Ann's Hospital in South Tottenham.
Published: 19/07/2022
---
When approved, the redevelopment will include up to 995 new homes, 60% of which will be affordable – helping to deliver much-needed housing in the area.
The site will also provide community-led housing, new and enhanced green spaces, shops, and other commercial uses, including affordable workspaces, while retaining and restoring several historic hospital buildings.
The former St Ann's Hospital site was originally purchased by the Mayor of London using some of his £250m Land Fund to acquire land to deliver more affordable homes for Londoners. Catalyst was selected by the Mayor to develop the site in late 2020.
Catalyst and Hill submitted a planning application for the scheme to Haringey Council on 6 July. The submission followed more than a year of consultation with the local community, which included a festival that was attended by more than 300 people.
The hybrid application contains detailed plans for 239 homes within the first phase at the north west of the site, with outline plans for an additional 756 homes over future phases. While the current masterplan is for 971 homes, the planning application is for up to 995 homes, as future phases are yet to be designed in detail.
Catalyst and Hill are focusing on making the new neighbourhood sustainable and eco-friendly, with an emphasis on green spaces for residents. The existing Peace Garden at the heart of the site will be trebled in size to include new public realm areas, play space, and further green space; and a network of new green spaces will be created around the existing trees.
There will be a mix of tenures on the site, including private sale, London Affordable Rent, London Living Rent, and Shared Ownership. The new neighbourhood will be completely tenure-blind – meaning there will no discernible difference between the design of the private-sale and affordable homes from the outside.
When the plans are approved, Catalyst and Hill plan to start work on the first phase of the development in Spring 2023, and future phases of the development will likely be consulted on later that year.
Philip Jenkins, Executive Director of Development at the Peabody Group, of which Catalyst is a subsidiary, said: "We are delighted that our plans for St Ann's New Neighbourhood have reached this critical milestone. We aim to deliver hundreds of much-needed new affordable homes in Haringey, as well as affordable workspaces and a network of green spaces, while sympathetically preserving the heritage of the hospital site for future generations. We are looking forward to working with the local community to make these exciting plans a reality."
Andy Hill, Chief Executive at The Hill Group, commented: "The submitted planning application for up to 995 new homes in Haringey is a significant step forward in the provision of much-needed affordable housing for the borough. We are proud to be working with Catalyst to create this landmark project, whilst working closely with the local community to ensure the delivery of their vision."