Back to news
Residents settle into new affordable homes in Walkern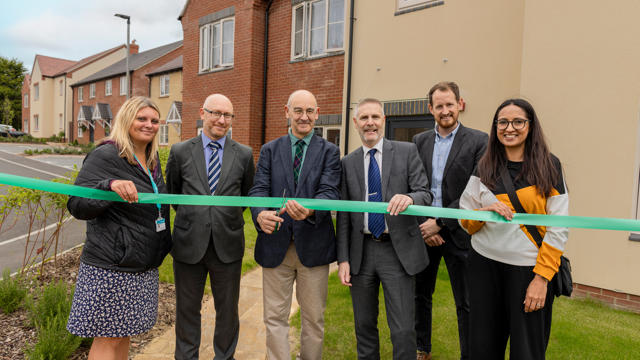 Housing association Peabody and East Herts Council have marked the completion of thirty-eight affordable homes at Midsummer Vale, off Froghall Lane, Walkern.
Published: 15/08/2023
---
Thirty of the homes are being rented at an affordable rate to local people on the council's housing register and eight have been bought on a shared ownership basis.
This development represents the largest new supply of affordable homes to buy or rent in the village for some time. The one-, two- and three-bedroom homes are suitable for households of different sizes and are within easy walking distance of Walkern's local amenities, which include a primary school, local shops, pubs and a GP surgery.   
Midsummer Vale resident, Kathy Gordon, said: "Having grown up in this area, I've loved the opportunity to come back to my roots after so many years. My new flat is very spacious with lots of storage. It even came with brand new carpets. We've truly made it our own.
"I love the area as it's really quiet with a great sense of community. The village is surrounded by green space that's perfect for dog walks. It's well connected for my work, schools and getting to London when I need to. We've settled in really well and I'm so happy here."
Simon Barry, Regional Managing Director of Development for Peabody, said: "It's great to see families settling into their new homes at Midsummer Vale. It offers the best of village living, surrounded by beautiful countryside yet close to a fantastic range of amenities. East Herts, like many other areas, is in desperate need of more high quality, affordable homes like these and we'll continue to work with our partners across the region and beyond to provide more where we can." 
Councillor Ben Crystall, Leader of East Herts Council, said: "It's been a pleasure to visit this attractive and well-located development. There is a pressing need for more affordable housing in East Herts and it will be a top priority for our new joint administration over the next four years to increase the supply of high-quality homes which blend into their communities and enable residents to reach local facilities easily.  To this end, we will continue to build strong relationships with local developers and housing associations across the district for the benefit of our residents."