Back to news
Thamesmead community celebrates £2.7m refurbishment of the Lakeside Centre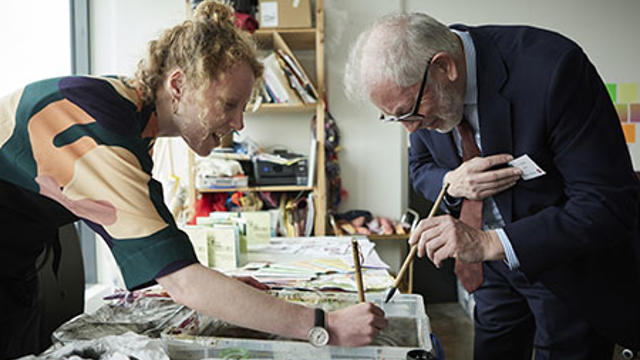 Thamesmead residents headed to the iconic Lakeside Centre recently for a special open studios event celebrating the building's £2.7m refurbishment.
Published: 12/05/2022
---
They were joined by Shonagh Manson, Assistant Director of Culture and Creative Industries for the Greater London Authority; Lord Kerslake, Chair of Peabody; Cllr Theresa O'Neill, Leader of Bexley Council; and Cllr Danny Thorpe, Leader of the Royal Borough of Greenwich.
The 1960s building – with renovations funded by City Hall's Regeneration Fund, with support from the London Economic Action Partnership (LEAP), Peabody, Bow Arts  and Arts Council England – is the first of a network of new cultural spaces that will emerge as part of Peabody's long-term regeneration plan for Thamesmead. 
After years of lying empty, the Lakeside Centre, which sits on the edge of Southmere Lake, has been brought back to life by Bow Arts. The organisation was recently granted a 30-year lease of the building by Peabody to help ensure Thamesmead is a culturally rich and diverse neighbourhood. This is fundamental to Peabody's cultural programme and strategy, which aims to ensure that Thamesmead has things to do and places to go, all year round. 
With 35 affordable artist studios, two residency studios, a community darkroom and community garden, the Lakeside Centre is now a thriving and creative hub. Projects which help Thamesmead feel loved and unique – such as the travelling cinema, life drawing classes, walking nature tours, and a kids' art club – have all started here. Others will be developed over the coming years.  
A place for the whole community, the Lakeside Centre is also home to an early years nursery and community café, both run by the YMCA. The YMCA is also developing an enterprise kitchen, providing support and training opportunities for young food entrepreneurs.    
All artists working at the Lakeside Centre are now well integrated into the community: more than 40 creatives who are based there also live as property guardians in Thamesmead, where they look after homes that would otherwise be empty, under a scheme managed by Bow Arts. They are among a growing number of local artists moving to the area, helping to cement Thamesmead's reputation as a vibrant new creative quarter in London. 
Lord Kerslake, Chair of Peabody, said: "Culture is at the heart of our regeneration of Thamesmead, so it's great to see the wealth of creative talent here at the Lakeside Centre. I want to congratulate and thank Bows Arts for providing a wonderful base for Thamesmead's artists: an inspirational place for projects to help this neighbourhood feel loved and unique. I'd also like to thank the GLA and Arts Council for funding this major refurbishment.  
"This fantastic venue, and all that it now offers, is a prime example of what can be achieved through great partnership work. I look forward to continuing the partnerships and developing new relationships with others, and to seeing other cultural venues open and grow across the neighbourhood over years to come." 
Marcel Baettig founder and chief executive of Bow Arts said: "It's very exciting to land in Thamesmead and immediately become a part of such an important project. We are thrilled to be celebrating the impact of artist-led projects in the local community such as the Thamesmead Travelling Cinema, our weekly kid's arts club and our growing learning programme in schools.  
"We look forward to continuing our partnership with Peabody and working together to establish the infrastructure for a creative economy in Thamesmead which benefits both artists and the local community. We know the centre will become a catalyst for unlocking the talent that already exists in the area."   
Justine Simons OBE, Deputy Mayor for Culture and the Creative Industries said: "It's wonderful to see the Lakeside Centre being brought back to life by Bow Arts. Thanks to funding from City Hall's Regeneration Fund with support from the London Economic Action Partnership, an empty unused building has been transformed into a much needed and valuable art space with a community garden for local people to enjoy.  
"Art has the power to bring people together and Lakeside is now set to become a thriving creative hub for both artists and the local community to share, imagine and celebrate the local area. This is partnership work at its best."