Back to news
The group helping people recover their wellbeing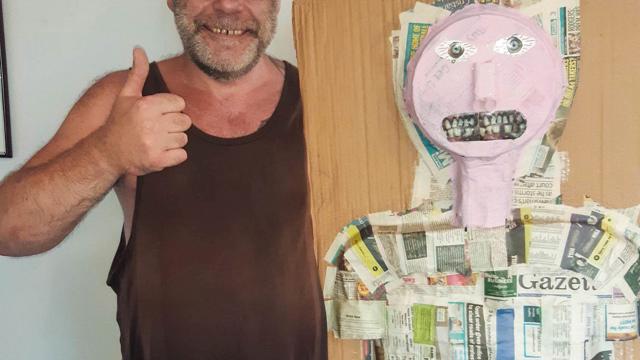 Our art club at Balfour Court is helping people relax, unwind and recover from mental illness.
Published: 13/12/2022
---
Our art club at Balfour Court is helping people relax, unwind and recover from mental illness.
Each week members try new techniques and create art in a calming, non-judgemental environment. 
The group is open to anyone who lives at Balfour Court or who is supported by our Thurrock Floating Support Service.
It was set up to help the people receiving one-to-one support through these services to recover their wellbeing, gain resilience and live more independently.
Members use it as an opportunity to connect with others, learn new skills and practice mindfulness – elements of the five to thrive approach to wellbeing that we use in our mental health, homelessness and outreach services.
We also offer yoga sessions, movie evenings, gardening, meditation, rambling and coffee afternoons for people at Balfour Court, so that there's something for everyone.
One member said: "Attending the group helps me get out of my flat and meet new people, which has a positive effect on my mental health."
Another member added: "The art club has really made a difference in my life and introduced me to other people. I now feel like part of a community."
We give every individual a say in how the group is run, to ensure it is as impactful as possible.
From moulding with clay to painting on canvas, the group has explored all kinds of art-forms at the request of its members.
They also wanted the group to be low commitment, so now they can join at any point during the session without needing to book.
It's constantly being improved as new people join and members bring new ideas and requests for how it could work.
Emma, one of our Support Workers, runs the group.
She said: "I have loved seeing people's confidence grow through attempting new things. It is a very relaxed atmosphere and everyone has shared skills and ideas along the way. 
"We've had some great feedback from our customers who say it is helping with their mental health. And it has all been more impactful because they have had equal say in how the group is run."
Our Outreach Services help thousands of individuals across 11 local authorities in Essex and London. The support we offer includes assistance with housing and welfare, wellbeing, debt and isolation.
Balfour Court is a supported housing scheme managed by Estuary Housing for people recovering from mental ill health, and we are the support provider at the scheme.
Read more about our Outreach Service.