Back to news
The Moorings Sociable club: co-designed with the community
As part of Open House Festival 2023, we're inviting people to the Moorings Sociable Club in Thamesmead.
Published: 14/09/2023
---
Sitting in the heart of The Moorings in Thamesmead is 1970s community building. Until recently it'd been empty for years, boarded up above the shopping parade and public space below. In Spring 2022, the building reopened to the public following a four-year refurbishment. Its renewal was funded by £1m from us and £1.15m from the Mayor of London. We commissioned visual artist, Verity-Jane Keefe, to take forward the work, which involved Project Orange architects, along with an expert design team and hundreds of local people.  
Keefe worked with a core group of local residents, as well as local schools, community groups and others to redesign the space. Together they considered what the local needed from this building, how it should look and feel, and how it could be run, managed and maintained in future. And so the Moorings Sociable Club took shape.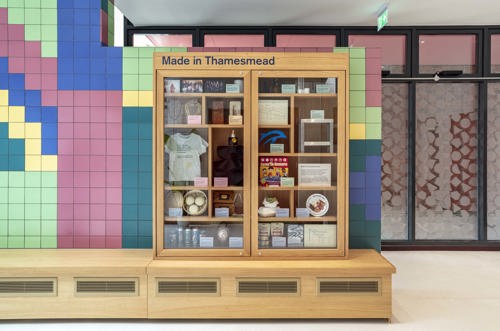 The building is prime example of modern conservation, with improvements informed by the community and underpinned by an ethos of repair and care. The club blends original design and architecture with new fixtures and fittings. The old club bar is now repurposed as a café counter and damaged quarry tiles are infilled with bespoke new ones, for example. Outside the entrance is striking tiled artwork, while a multi-coloured metal sign on the first-floor terrace makes a positive statement with 'ALL THE BEST FOR THE FUTURE'.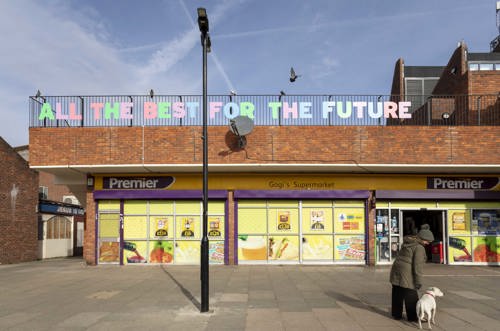 These and other improvements aim to conjure up feelings of familiarity or those who knew the building before it first closed, whilst being warm and welcoming to newcomers. Creative components and artworks, from the decorative to the useful, give the place a distinct and welcoming feel. The refurbishment extends beyond the club to the surrounding area, helping shared spaces feel brighter, cared for and happier.  
The club's new facilities include a large performance space, training room, shared workspace, IT suite, alcove museum and community café. We and our partners are now using these spaces to run a range of activities and services, supporting local people with issues including housing, jobs and training, immigration and money management.  
What you'll find is a wonderful space for anyone to enjoy. Whether you live locally or elsewhere, we look forward to welcoming you.
The Moorings Sociable Club is on Arnott Close, Thamesmead SE28 8BG. You can drop in Monday to Friday from 9am to 5pm. The club is one of nine community spaces venues across Thamesmead available to hire.