Back to news
Work on new Dee Park community centre well underway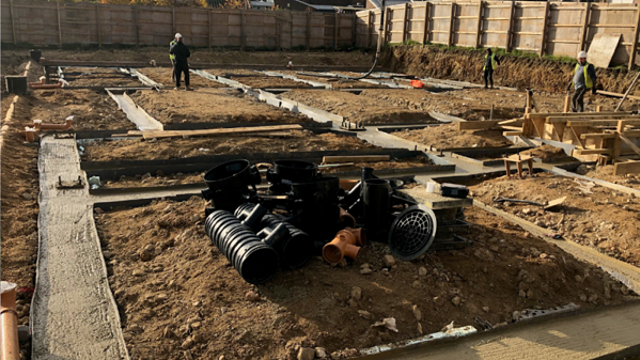 Catalyst began work on the next phase of the Dee Park estate regeneration in Reading. The housing association is working with Star Contractors to deliver a new community centre as part of Phase 2c.
Published: 07/01/2022
---
Work began on the vacant site at the end of August, and a great deal of progress has already been made. Foundations have been completed, and the steel frame for the building structure is expected to go up in the coming month.
When complete, the new community centre will have a number of new facilities for the local community, including a new hall, a children's centre, and new office workspace. The community centre is currently scheduled to open in Summer 2022.
Star Contractors have been working to keep disruption to a minimum within the area during the construction period, and have asked any concerned neighbours to get in touch with them by phoning 020 8570 5785 or emailing info@starcontractors.co.uk
Catalyst is also reviewing the future and final phase of the Dee Park regeneration, which will deliver more new affordable housing and a new school building. Plans for the school have already been submitted to the local authority, but Catalyst is currently considering how the plans could be updated after the previous planning permission expired. The housing association hopes to carry out consultation with the local community on new plans in the near future.
Catalyst is delivering the remaining phases on its own and is looking to honour the promises made to residents throughout the regeneration, as well as bringing the plans up to date with planning policies and new local priorities following the Covid-19 pandemic.
Mohammed Haque, Head of Development (pre-construction) at Catalyst said:
'The Dee Park estate regeneration has always been very important to us, and I'm so pleased that Catalyst is able to deliver this long-awaited Community Centre. We are working closely with our partners at the Council to bring forward proposals for the final stage of the regeneration and can't want to welcome members of the community to the new centre.'
Councillor Jo Lovelock, councillor for Dee Park said:
'I'm thrilled to see work starting on the new community centre at Dee Park, a key part of the regeneration. It will be a great addition to the area, with much needed new facilities for local residents.'